2017-2018 Water sharing plan reviews
Commission's role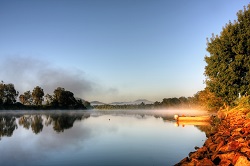 Water sharing plans establish rules for sharing water to balance the needs of all users, including the environment. These plans typically apply for a period of ten years. At the end of this term, the Minister for Regional Water may decide to replace or extend a plan.
The Commission has a role under s.43A of the Water Management Act 2000 to advise the Minister on:
the extent that water sharing provisions of the plan have materially contributed towards achievement of the State priorities for Local Land Services that relate to natural resource management
whether changes to plan provisions are warranted.
In conducting this review, the Commission is to call for, and consider, public submissions and have regard to any other relevant state-wide and regional government policies or agreements that apply to the catchment management area. This includes intergovernmental agreements, such as the Basin Plan. Depending on its review findings, the Commission may recommend extension or remake of a water sharing plan.
Plans under review
In 2017, the Commission commenced reviews of the following plans:
Water Sharing Plan for the Bellinger River Area Unregulated and Alluvial Water Sources 2008.
Water Sharing Plan for the NSW Great Artesian Basin Groundwater Sources 2008
Water Sharing Plan for the NSW Border Rivers Regulated River Water Source 2009
These reviews will be completed in 2018.
Review scope
The Commission's reviews will focus on how plan provisions have contributed to State priorities for Local Land Services, specifically the following goals from the Local Land Services State Strategic Plan:
biosecure, profitable, productive and sustainable primary industries
resilient, self-reliant and prepared local communities
healthy, diverse and connected environments.
In addition, the Commission is considering the objectives from the respective water sharing plans.
The reviews seek to answer eight questions:
In what ways have the plan provisions materially contributed to these goals and water sharing plan objectives?
What changes to plan provisions are warranted to better achieve these goals?
How could plan provisions be improved to reduce complexity and cost of implementation?
How could plan provisions be improved so that regulatory obligations on businesses are reduced or made easier to understand and implement?
How could plan objectives, performance indicators, monitoring and reporting be improved?
How could plan provisions better address risks, commensurate with benefits and costs?
Is the knowledge on which the plan provisions are based commensurate with the potential level of risk, scale and local importance?
Is there significant new information on the underpinning science and assumptions?
Review of water sharing plan for the Border Rivers source
The Commission is reviewing this plan in parallel with the Department of Industry - Crown Lands and Water's water resource plan development process, as this plan is due to expire the same year (2019) that Crown Lands and Water must deliver its water resource plans. Crown Lands and Water and the Commission jointly called for submissions to inform their respective processes. The submission period for this plan is now closed.
Water resource plan development process
Crown Lands and Water is developing water resource plans, as per the requirements of the Basin Plan, for water resources within the Murray Darling Basin. These water resource plans are to be completed by 2019. Each water resource plan will be a set of instruments that together meet the requirements set out in the Basin Plan. NSW water sharing plans will be key instruments within each water resource plan.
Enquiries
If you have any enquiry about these reviews, please contact the Commission on (02) 9228 4844 or email to nrc@nrc.nsw.gov.au