2015 Water sharing plan reviews
Inland alluvial aquifer plans
Water Sharing Plan for the Lower Gwydir Groundwater Source 2003 (commenced in 2006)
Water Sharing Plan for the Lower Lachlan Groundwater Source 2003 (commenced in 2007)
Water Sharing Plan for the Lower Macquarie Groundwater Source 2003 (commenced in 2006)
Water Sharing Plan for the Lower Murray Groundwater Source 2003 (commenced in 2006)
Water Sharing Plan for the Lower Murrumbidgee Groundwater Source 2003 (commenced in 2006)
Water Sharing Plan for the Upper and Lower Namoi Groundwater Sources 2003 (commenced in 2006)
Coastal plan
Water Sharing Plan for the Paterson Regulated River Water Source 2007
Water sharing plans establish rules for sharing water to balance the needs of all users, including the environment. These plans apply for a period of ten years from their commencement.
At the end of a plan's term, the Minister responsible for the Water Management Act 2000 (the Act) may decide to make a new replacement plan or extend a water sharing plan for a further ten years. A report provided by the Commission under s.43A of the Act informs this decision.
2015 Review of water sharing plans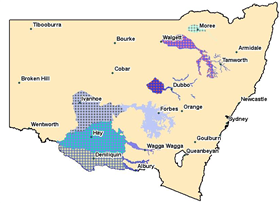 The Commission reviewed seven water sharing plans in 2015, examining the extent these plans contribute to state priorities for Local Land Services and whether changes to plan provisions are warranted.
The seven plans include:
six inland alluvial aquifer plans that cover water sources in the Murray-Darling Basin
one coastal plan – the Water Sharing Plan for the Paterson Regulated River Water Source.
The map shows the location of these plans.
The Commission submitted its review report to Government in April 2016, recommending replacement of the seven water sharing plans approaching expiry.
In July 2016, the Commission received feedback from the then Minister for Lands and Water supporting the recommendation to replace the seven water sharing plans.
The then DPI Water undertook a parallel review of these plans, focusing on whether changes could be made to improve outcomes for the environment and water users, improve clarity, practicality and consistency, and reduce risks. This review also recommends replacement of the seven plans.
Water sharing plans for inland alluvial aquifers
As these plans apply to water sources in the Murray-Darling Basin, they will progressively become components of water resource plans being developed under the Basin Plan 2012, but will continue to fulfil their current role under NSW legislation.
The Basin Plan 2012 requires the preparation of water resource plans that set out arrangements to share water for consumptive use. These new plans are a tool for aligning Basin-wide and State-based water resource management. They are a key driver in implementing the Basin Plan and build on existing State water planning arrangements.
The figure shows the relationship between a water sharing plan and water resource plan.
The Commonwealth Minister responsible for water will accredit water resource plans.
Water Sharing Plan for the Paterson Regulated River Water Source
This Plan commenced in July 2007 and is due to expire in July 2017.
The Paterson Regulated River Water Source includes the Paterson River between the Lostock Dam water storage and downstream to the tidal limit, north of Paterson in the Hunter region.
The Commission received 28 submissions to the review, including two that are not for the website.
A