News
Partnering with leading scientists in new forest monitoring projects
25-Jun-2020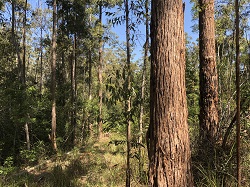 NSW Government partners with Australia's leading scientists to deliver data for better forest management across national parks, state forests, crown land and private forested land.
The Natural Resources Commission, as chair of the Forest Monitoring Steering Committee, has partnered with 10 universities, the Department of Planning, Industry and Environment, Regional NSW, Aboriginal organisations and private consultancies to deliver nation leading forest monitoring services.
The Steering Committee has approved the following 11 new monitoring projects on:
data services
forest-dependent jobs
Aboriginal culture and renewal (x2)
baselines, trends and drivers for forest extent, condition and health
carbon balance of NSW forests
baselines, trends and drivers for forest species occupancy and distribution
fauna call recognisers
baselines, trends and drivers for water quality and quantity in forest catchments
baselines, trends and drivers for soil stability and health in forest catchments
evaluating forest road network to protect forest waterways.
This new work will build on previous investments in:
assessing post-wildfire impacts to support recovery planning
monitoring north coast fauna.