Water sharing plan reviews
Reviewing water sharing plans to identify opportunities to improve water sharing provisions and associated outcomes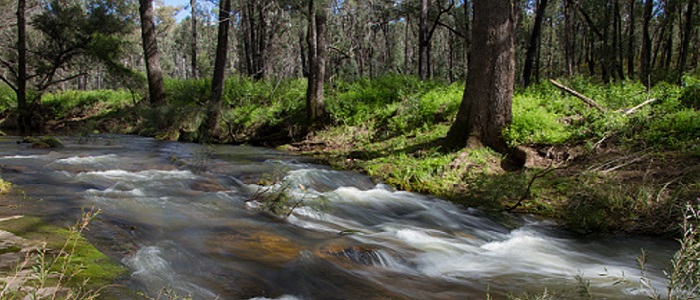 The purpose of water sharing plans is to prescribe how water is managed, firstly to provide for the environment and also to support social and economic outcomes. These plans typically apply for a period of ten years.
The Commission has a statutory role under Section 43A of the Water Management Act 2000 to undertake independent reviews of water sharing plans approaching expiry and report its findings to the Minister for Water. These reviews help to identify opportunities to improve water sharing provisions and associated outcomes. The Minister considers the Commission's report before deciding to extend or make a new water sharing plan.
Government responds to Commission's review of South Coast water sharing plans
The Government has publicly announced that water sharing plans for the NSW South Coast region will be extended for two years in order to be remade.
The Commission reviewed the following plans for the NSW South Coast region, as required under Section 43A of the Water Management Act 2000:
Water Sharing Plan for the Bega and Brogo Rivers Area Regulated, Unregulated and Alluvial Water Sources 2011
Water Sharing Plan for the Murrah-Wallaga Area Unregulated and Alluvial Water Sources 2010
Water Sharing Plan for the Towamba River Unregulated and Alluvial Water Sources 2010
The Commission assessed the extent to which provisions in the Plans have contributed to achieving environmental, social, cultural and economic outcomes, and identified where changes to provisions are warranted.
The plan areas were significantly affected by bushfires in 2019-20 after experiencing a severe drought. It was evident from engagement during this review that the impacts of these events are far reaching and ongoing for communities and the catchments.
The Commission identified several examples of good practice and positive outcomes in this review, as well as several opportunities to improve outcomes that justify replacing the Plans (see report).
Review of inland water sharing plans
Submissions for the following inland water sharing plans have now closed:
North Western Unregulated and Fractured Rock Water Sources 20211
NSW Border Rivers Unregulated River Water Sources 2012
Castlereagh River Unregulated Water Sources 2011.
Two of these plans fall within the Murray-Darling Basin (NSW Border Rivers unregulated and Castlereagh River unregulated). They were amended in 2020 as part of the development of Water Resource Plans to remove alluvial water sources. These groundwater sources and associated provisions were moved to other water sharing plans that will be reviewed in the future. The Commission's review will therefore focus on surface water sources to which the currently legislated plans apply. However, if the Commission identifies issues of relevance to the groundwater resources removed from the original water sharing plans, for example in relation to surface-groundwater connectivity, we will note this in our review and indicate it should be considered in the review of the relevant groundwater plan.
The Commission will take all submissions into consideration when preparing its advice to Government.
Plans being reviewed
The Commission is reviewing water sharing plans for the following water sources:
Castlereagh Unregulated Water Sources
Intersecting Streams Unregulated River Water Sources
Lower Murray Darling Unregulated Water Sources
Murray Unregulated Water Sources
Northwestern Unregulated and Fractured Rock Water Sources
NSW Border Rivers Unregulated Water Sources