Independent research on north coast koalas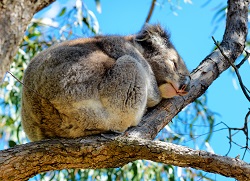 The NSW Government has released the NSW Koala Strategy. The strategy commits $45 million over the next three years to conserve habitat, reduce threats and build new knowledge.
As part of the strategy, the Commission will lead new independent research on how koalas respond to native forest regeneration harvesting (also known as intensive harvesting) on north coast state forests.
The Commission will receive funding from the NSW Government over three years to deliver this research.
Read more about the NSW Koala Strategy on the NSW Office of Environment and Heritage website.
Research approach
The Commission intends to deliver scientifically robust research that meets user, stakeholder and community needs. Outputs from the research will support adaptive and ecological sustainable management of native forests.
The research will be undertaken by suitably qualified researchers and/or organisations, and is likely to comprise of multiple projects. The Commission will seek proposals for scientifically robust projects that aim to build our knowledge of koala response to regeneration harvesting.
The Commission will oversee the identification and selection of the research project(s), ongoing implementation and reporting and the sharing and application of new knowledge to inform management.
The Commission will establish an expert panel comprising koala and forestry experts to advise on research selection and ongoing implementation. The Commission will also seek advice from relevant agencies and other subject matter experts.
A research plan outlining the selected research projects and their proposed implementation will be made publicly available. The Commission will provide annual public reports on the project.
Timing
The Commission is currently scoping and planning the research project. The Commission is aiming to have a research plan in place by December 2018, with research commencing in 2019.
The NSW Government is also developing a broader research plan to support other priority koala research. This plan will be informed by a research symposium led by the Office of Environment and Heritage. The Commission will work with the Office of Environment and Heritage to explore opportunities to collaborate through this process.
Stay informed
The Commission will be updating this webpage as the project is implemented. If you would like to receive updates regarding this work, you can sign up to our mailing list.
Koalas and the new Coastal IFOA
The NSW Government is currently finalising a draft Coastal Integrated Forestry Operations Approval (IFOA) after public consultation. The draft IFOA sets out rules for native timber harvesting in NSW's coastal forests, including for regeneration harvesting and koala protections.
The Commission's koala research will be used to understand the effectiveness of these conditions and support evidence-based improvement of the Coastal IFOA over time.
Read the draft Coastal IFOA and find out more about regeneration harvesting and koala protections on the Have Your Say webpage.