Local Land Services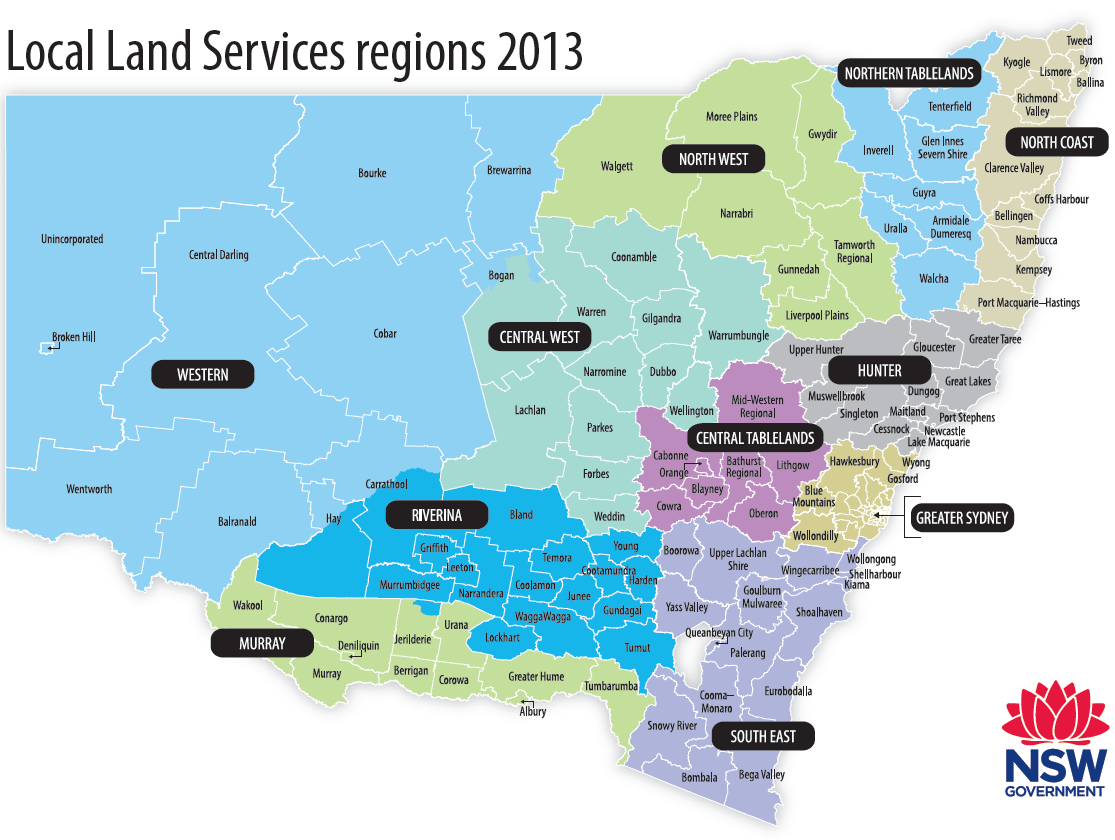 The NSW Parliament passed the Local Land Services Bill 2013 on 27 June 2013. This Bill enabled the establishment of 11 regional Local Land Services organisations that are in operation since 1 January 2014.
The Minister for Primary Industries adopted key Local Land Services decisions based on the recommendations of the independent Local Land Services Stakeholder Reference Panel, chaired by the then Natural Resources Commissioner, Dr John Keniry AM.
The Reference Panel made its recommendations to the Minister after six months of state-wide community and stakeholder consultation, including conducting 22 workshops attended by more than 1,500 people throughout NSW.
Local Land Services are regionally-based, semi-autonomous organisations that are governed by a skills based Board comprising ratepayer elected and government appointed members.
Local Land Services comprise:
11 regions
Local Boards with seven members – four Government appointments and three ratepayer elected positions (a 5:4 ratio in the Western Local Land Services to account for its size)
One Board of Chairs with an independent Chair.
Local Land Services bring together Catchment Management Authorities, Livestock Health and Pest Authorities and agriculture advisory services of the Department of Primary Industries into a new regional service delivery model for farmers. They provide integrated locally prioritised agricultural, plant and animal pest control, biosecurity, natural resource management, and emergency and disaster assessment and response services.
Local strategic plan developed by each Local Land Services prioritises service delivery reflecting regional priorities. Individual Local Land Services will be independently audited to ensure accountability and delivery against priorities.
Local Land services are funded by direct budget contributions from the NSW Government, ratepayer funds and a continuation of natural resource grant funding from the NSW and Australian Government.
Local Land Services Stakeholder Reference Panel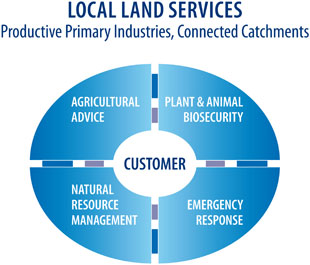 The Local Land Services Stakeholder Reference Panel is an independent body responsible for undertaking community and stakeholder consultation on Local Land Services and providing recommendations to the Minister on the establishment of these new bodies. The Reference Panel consists of:
Dr John Keniry AM, Chair, NSW Natural Resources Commissioner
Dr Richard Sheldrake, Director General, Department of Primary Industries
Fiona Simson, President, NSW Farmers
Ian Donges, Chair, Livestock Health and Pest Authorities
Tom Gavel, Chair, Catchment Management Authorities Chairs Council
Ray Donald, President, NSW Shires Association
Rob Dulhunty, Chair, Landcare NSW Inc
Chris Andrew, Business Development Manager, Greening Australia NSW
Mick Keogh, Director, Australian Farm Institute
Michelle Lauder, Department of Agriculture, Fisheries and Forestry.
For more information, visit the Local Land Services website.